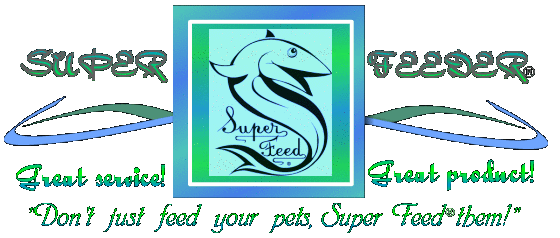 This older site dating back to 1995 is for information purposes to explain the many ways our Super Feeder is used. To buy or see our complete line of products click on the any of the two links below:
ONLINE STORE AT: https://www.superfeederstore.com
Check out "discounts" on our online store.
Look at our ASF-1 Aquarium Super Feeder® below!
|Looking for outdoor Koi Pond models? click on this line.|
|Looking for cat/small animal Super Feeder®? click on this line.|
You may also check out the other "Super Feeder" website at:
MODEL ASF-1 AQUARIUM SUPER FEEDER®

(Patent 5,873,326) ASF-1 Aquarium Super Feeder®


AC/DC Power Adapter.
"Moisture Trap" Funnel (patented).
Complete installation and operating instructions. See .[price list]
One hopper extension, for when you are away, to increase feeder capacity to 2 3/4 cups! Base feeder holds 3/4-Cup and is under 5 inches tall. Additional extensions available, even a 1.5 gallon hopper.
NOTE: Timer in picture is one example of timers that can be used.

WANT TO SEE IT WORK WITH FLAKES? CLICK ABOVE FOR MPG

MIX ALL TYPES OF DRY FOOD TOGETHER!

BOTTOM VIEW OF SUPER FEEDER®

If you do not already have a timer, an inexpensive one as simple as this one above is ideal to trigger your Super Feeder®.

MULTI EVENT TIMERS TO OPERATE FEEDERS

A simple 24-hr lamp timer like one pictured left is optionally offered in combos because most people already have one on hand. You may use a whole array of other types of timers like a digital timer, etc... Any inexpensive lamp or appliance timer can be used just to POWER and "trigger" each Super Feeder's own internal and adjustable feed timer via its supplied AC/DC power adapter. For the home automation enthusiast, the X-10 or other similar system could be used to trigger the feeder. Remote operation via cell phone, Alexa or Google could be achieved using the Wi-Fi TP-link HS-100 or the WP1 smart plug we have tested and offer on our store. See typical timer hook-up. Just make sure that the timer you plan to use has enough on-off cycles to trigger your feeder the needed amount of times. Digital timers can also be used.

Digital or analog 12 to 24 volt timers are also available for people who must use a battery powered system. Click on timer in left column for detailed info of various timers we have available.
Once again, it is important to note that the remote timer is only used to power and trigger the feeder at programmed times of day. It does not determine the length of time the feeder actually runs! The feeder's own electronic internal adjustable timer does that.
|SEE DIFFERENT TIMER EXAMPLES YOU CAN USE AND HOW THE FEEDER OPERATES|
You may also control your Super Feeder from anywhere with your iPhone using any one of our Wi-Fi Sockets
Video clip below for feeder operation (cat feeder, but same basic operation)
http://www.super-feeder.com/video.html
Installation on large tank Example: https://youtu.be/U3BLblVSaWw
If you want to purchase or find more information about the "basic" aquarium model above left to use with your own timer or home automation system, click on the picture. To purchase the one at right with a 7-day digital timer, click on the picture. This special timer has seconds available which can provide some very small snacks between the feeder's main pre-programmed portions. Another cheaper combo comes with an analog timer. This Super Feeder® is perfect for feeding aquarium fish, turtles or other small animals. For answers to any questions you may have about this feeder, contact us directly at: 615-470-5596 or e-mail info@super-feed.com
http://www.michiganreefers.com/forums/showthread.php?p=464407&posted=1#post464407

Interested in controlling and monitoring feeder remotely with other Web-Enabled PC, Phone or PDA? Check out SmartHome™ system at:
http://www.smarthome.com/2412N/SmartLinc-INSTEON-Central-Controller/p.aspx

[NEWS] [About Us] [Contact us]
[FUNCTIONS][Q&A's] [How to choose] [koi Pond Super Feeder®] [CAT FEEDER]
[Bird Super Feeder®] [Quick Installation Page][See Typical Pond Feeder installation] Feeder sizes, info]
[How to order and Prices][Timers] [Combo deals] [ON-LINE STORE] [Policies/warranty]
[Troubleshooting][Super Feeder parts list]
INTERNATIONAL ORDER? DO NOT ORDER ONLINE UNLESS YOU REVIEW OUR POLICY AT:
http://www.super-feed.com/international_order_policy.htm
CONTACT US FOR TECHNICAL INFO AT: info@super-feed.com
GENERAL INQUIRIES: sales@super-feed.com
SAFETY REMINDER
All Super Feeders have been thoroughly tested and found to be extremely dependable in providing your pet(s) with timely meals; however, as with any machine, your feeder should be monitored at regular intervals for proper operation. If you anticipate being away for an extended period of time where a lack of food could cause harm or even death to your pet(s), you should make arrangements with someone to inspect your feeder at regular intervals.
SUPER FEED & SUPER FEEDER are registered trademarks owned and licensed by Super-Feed Enterprise.
Copyright © Super-Feed Enterprise. All rights reserved.
Revised: April 05, 2019.
Automatic Aquarium Feeder | Automatic Fish Feeders | Electronic Aquarium Feeders | Electronic Fish Feeders
Automated Fish Food Feeders | Automated Aquarium Food Feeders | Aquarium Super Feeders | Aquarium Food Feeders