This older site dating back to 1995 is for information purposes to explain the many ways our Super Feeder is used. To buy or see our complete line of products click on the any of the two links below:
ONLINE STORE AT: http://www.superfeederstore.com
Check out "discounts" on our online store.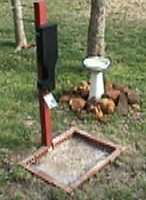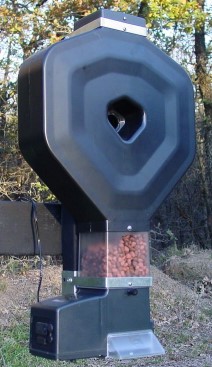 The above (left) Model 6 (OLDER STYLE AND DISCONTINUED) outdoor 2 gallon Super Feeder® is being used for feeding birds, ducks, swans, etc... We hooked-up directly to a WaterMaster 4 zone sprinkler timer which has battery back-up power and keeps exact time. It feeds 3 times a day and distributes all types of seeds like sunflower seeds, corn, etc... We even mixed-in some rabbit food pellets for our wild rabbits. Since wild animals are not too loyal, it helps to keep them coming back even when we are away! At right, our KSF-2XL Super Feeder® can be used for that type feeding. It has been fitted with a 1.5 gallon hopper. It operates exactly the same way as the other Super Feeders®.
Unique protective method shown above by Francois booyse using a large container! Let's see raccoons try to get to this one!!
UNLIMITED VERSATILITY! YOUR IMAGINATION IS THE LIMIT!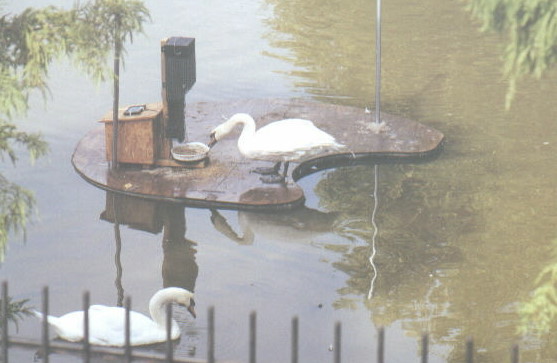 Battery operated "older" mod.6 Super Feeder mounted on a floating platform (above) helps to safely feed swans away from predators like coyotes and other undesirable animals.

A 12 Volt DC digital timer is available to operate our outdoor feeders for people who do not have a 120 Volt source near by. The ASF-1, KSF-2 or CSF-3 are already designed to operate from a 9-24 Volt DC source as well as AC. The only accessories you will need, in addition to the feeder, are: A 12 volt battery, our DC digital 7 day timer, and a solar charger to keep the battery charged (not really needed with our feeder, but used above by one of our customers). Our system uses such an extremely small amount of power that you may just choose to occasionally charge the battery yourself. The digital timer should be installed out of the weather like inside the battery compartment or other suitable shelter.

TO HELP YOU DECIDE HOW TO CHOOSE THE PROPER SET-UP, YOU SHOULD FIRST GO TO http://www.super-feed.com/how.html

video: http://www.super-feeder.com/video.html (cat feeder, but others same operation)

You may control your Super Feeder from anywhere using your Smart Phone with our Wi-Fi Socket or even Xfinity Home accessories like a camera, etc...

SAFETY REMINDER
All Super Feeders have been thoroughly tested and found to be extremely dependable in providing your pet(s) with timely meals; however, as with any machine, a feeder should be monitored at regular intervals for proper operation. If you anticipate being away for an extended period of time where a lack of food could cause harm or even death to your pet(s), you should make arrangements with someone to inspect your feeder at regular intervals.

How do they work? | Price List | Cat Feeder |

Home

| Contact and order info | Aquarium Models |

|More Information and Available Options | Outdoor Models |

Order online at http://www.superfeederstore.com/servlet/StoreFront

or CONTACT US FOR INFO AT: info@super-feed.com

SUPER FEED & SUPER FEEDER are registered trademarks owned and licensed by Super-Feed Enterprise.

Copyright © Super-Feed Enterprise. All rights reserved.
Revised: April 22, 2017.