Trouble sleeping in the morning because your pet wants to be fed? Well, here's the answer to your problem!
Probably the most versatile pet feeder you will find! Check and see how many other feeders offer such an array of operational flexibility!
The future is here! Interested in home automation system to operate your Super Feeder and other items? Check this out:
https://www.youtube.com/watch?v=_NzVyJHk5qw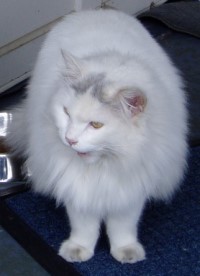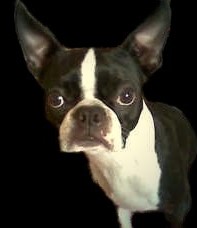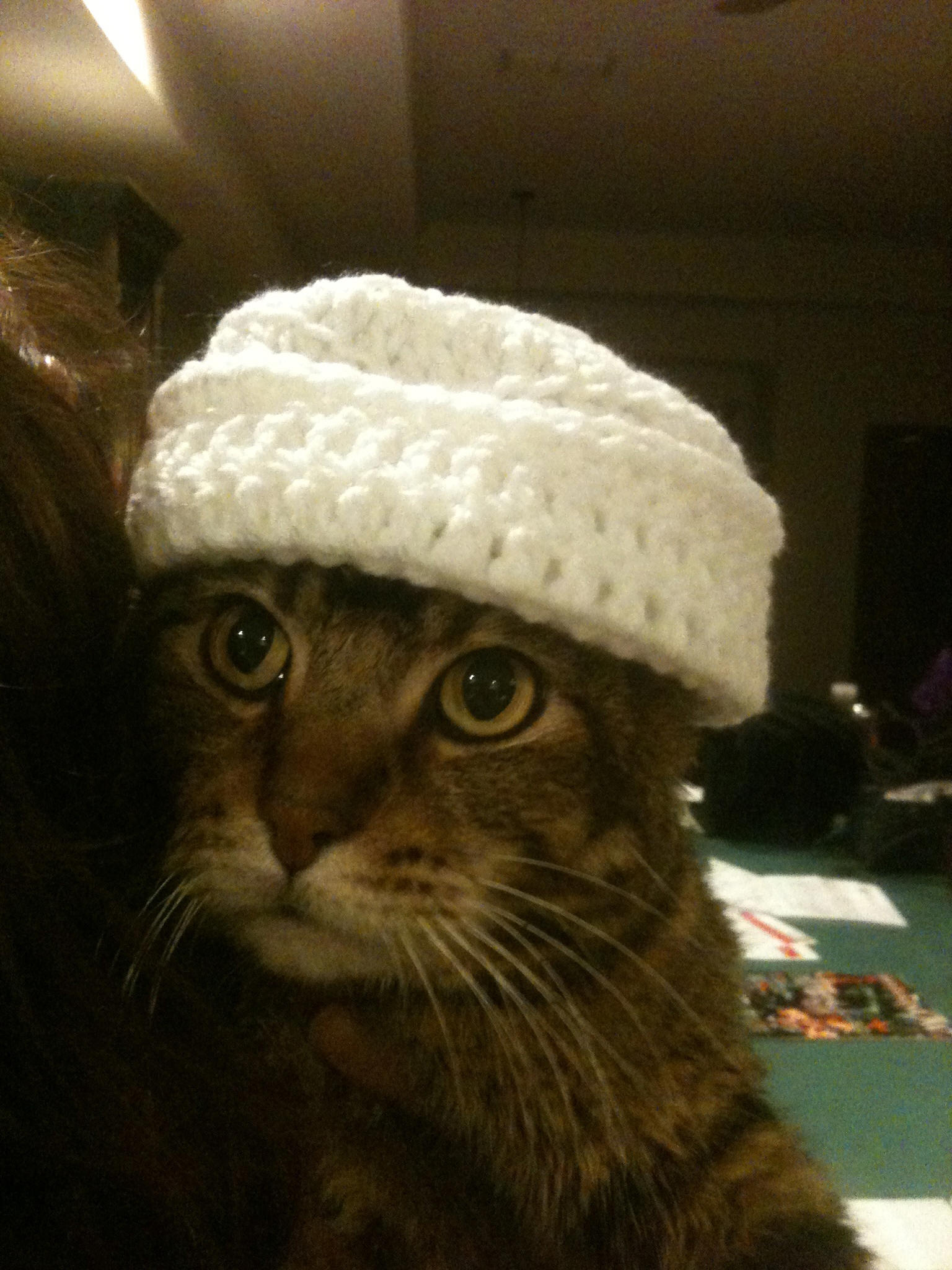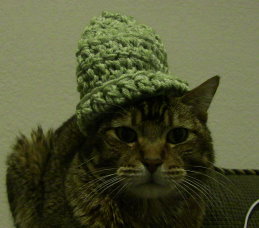 A well fed pet is your best friend!!
our CAT/SMALL-ANIMAL SUPER FEEDER®--like no OTHER!
Click on the picture for detailed installation tips
Raccoons? Squirrels?...Here is a real neat way to install Your cat Super Feeder on your outdoors porch and keep them from eating all your cat food! All it takes is about $6.00 worth of parts--an aluminum (preferred) or vinyl gutter down spout (about 16"), a couple of straps, and an elbow (example). We recommend a metal gutter because it's very easy to cut with tin snips, can be stretched and bent to suit, and most of all, it will help make it small animal-proof like rats and raccoons. Gutters are also available in brown color and vinyl material. The set-up's displayed above are the CSF-3XL. The CSF-3XL is supplied with the 1.5 gallon hopper, which can supply up to 1.8 gallon of dry food if used with two of the feeder's supplied clear extensions--One is recommended as displayed to see when the food gets low. Helpful tips for gutter installation, if food bounces out of bowl when coming down: Squeeze together the bottom end of the gutter to slow-down the food as it comes down, or place the end close to the bottom of the bowl, or slip a piece of sock over the end. If you have animals like raccoons around, protect the wiring as well. The feeder can be exposed, but make sure you at least protect the area where the food drops out. For very best protection of your investment, enclose the whole unit.
|Click on this MPEG link to see the feeder above dispense food!|
FOR A DETAILED VIDEO SHOWING SET-UP/OPERATION INSTRUCTIONS, PLEASE CLICK ON THE FOLLOWING LINKS
|CLICK ON THIS LINK FOR DETAILED INFO ABOUT THE ELECTRONIC FEED ADJUSTMENT SYSTEM|
|CLICK ON THIS LINK FOR "QUICK-INSTALLATION" TIPS AND PICTURE CLIPS|
Interested in controlling and monitoring feeder remotely with Web-Enabled PC, Phone or PDA? Check out SmartHome™ system at:
http://www.smarthome.com/2412N/SmartLinc-INSTEON-Central-Controller/p.aspx
The set-up at right is an indoors option and comes complete with custom stand (12"x10" base with 21" tall feeder). You can purchase it as shown with up to 1.8 gal. capacity, as a quart setup, without the stand and bowl, or as a complete combo with a timer of your choice (LOTS TO PICK FROM--CLICK ON THE LARGE GREEN LINK BELOW). If you want to save money, you can purchase a very basic package economically and mount it the way you want. CLICK ON ANY OF THE PICTURES ABOVE TO GO TO STORE FOR THAT ITEM.
This chute protection device (left) slips into the chute opening and is optionally available for earlier model cat feeders (if used, smallest cat food like Science Diet® Brand should be used if at all possible). Normally, it is only installed on the outdoors Koi-pond feeder for weather protection, but it can also be ordered and installed on the cat feeder if you have an aggressive cat when it comes to trying to get food out of the feeder. There really is no easy way for a cat to get to the food, because of the feeder design, but it could discourage it from trying and damaging the chute. All present cat feeders now include a chute cover installed on a new housing with larger chute opening. Second right, our most popular combo deal #18A (one of many combo deals available) comes complete with very easy to program remote analog timer, which can provide up to 48 feed cycles per day. Click on that combo picture to purchase it or view many other combos. Limited on space? Two pictures at right demonstrate how a customer exercised his ingenuity to install his Super Feeder with minimum space available (between washer and dryer). He used one extra 2-Cup clear extension to increase the feeder's capacity to keep from having to use the larger hopper, which would not fit in that space.
Want to see a real chute cover test video from a past customer with a real naughty large cat? click this link:
http://www.youtube.com/watch?v=kTt-Pt-8oyw
TO HELP YOU CHOOSE THE RIGHT FEEDER COMBINATION, CLICK ANY OF 3 LINKS BELOW
TO HELP YOU UNDERSTAND HOW THE SUPER FEEDER WORKS GO TO [http://www.super-feed.com/how.html]
TO ANSWER COMMON QUESTIONS, CLICK ON |THIS LINK|
[SEE ALL OUR FEEDERS AND COMBO DEALS BY CLICKING ON THIS LINK LINE]
MORE EXAMPLES OF INSTALLATION BY SOME OF OUR CUSTOMERS (OUTDOOR AND INDOOR)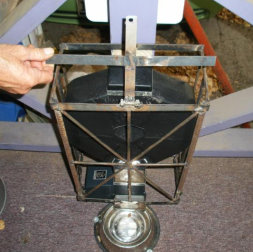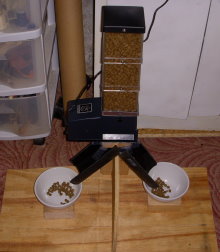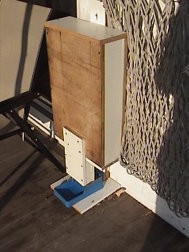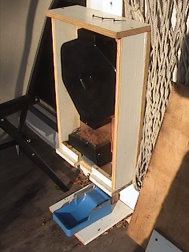 Ingenious set-up made with bucket by Steven Cappon. Far right from the UK, Elena's own feeder mounting stand for her beloved Oscar the cat!
Says Steven, "Attached is the hopper/holder feeder tray I built. Aside from a few screws, rivets and a block of wood the only material I used is the square buckets and lids I get my kitty litter in. It was a fun project."
Above, perhaps one of the best ways to raccoon-proof the Super Feeder!! Shared with us Elise guidoux and Chris Diebold, Johnstown
Unique protective method shown (three to the right) above by Francois booyse using a large container! Let's see raccoons try to get to this one!!
YouTube - Cat Feeder in trash can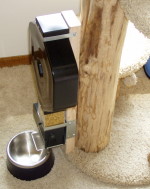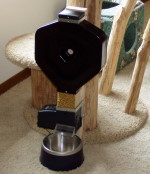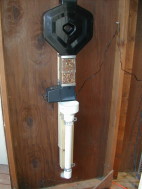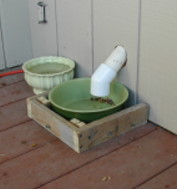 Interesting original set up shown above shared by Jason Covert and splitter device far right by John Humphrey, Valencia, PA.
Very interesting and ingenious set up above by Tricia Burch using a dedicated door system by Petsafe to control meal size for individual cats. Similar system available from http://meowspace.biz/ . Click on the far right picture for the "Best Award Winning Outdoor Setup" by Bill Warren!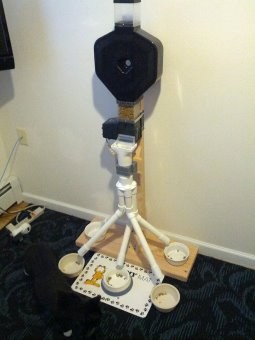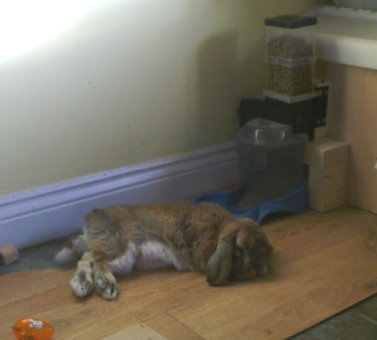 Above right: How about "Billy" the bunny rabbit? How cute is that little guy? Custom set-up by Paul Greenwood of Bristol, England, UK
Above left: Original setup shared by Jared Banyard. His recipe:
Then just rigged the super feeder to 2x4 and 1" piping."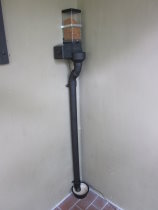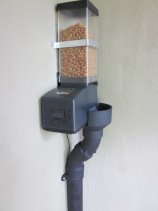 Another example above shared with us by Steve Westbrook (engineer) from Glendale, AZ.
Another ingenious set-up kindly shared with all of us by
Dan Stavis
San Jose, CA
Keeps rowdy pets or maybe even destructive raccoons away from his investment! No messing with these feeders allowed!
CSF-3 Super Feeder webcam monitor system video by customer:
UNLIMITED VERSATILITY! YOUR IMAGINATION IS THE LIMIT!
Our CSF-3 Super Feeder® is the answer to feeding your cat, small dog, or other small animal while away from home. Its cost will be quickly recovered by eliminating boarding and related hassles. If installed outdoors and you have raccoons, we strongly recommend protecting the open chute area where the food comes out. The feeder can be enclosed or the chute can be protected with a "guttering" system as shown above.
IMPORTANT NOTE: For very best performance, small 1/4" round kibbles are recommended and guaranteed to work after having been well proven over years of use in our Super Feeder®. Most cat food kibbles will work fine, but if you think you cannot or would not be willing to switch if needed, or upon receipt you do not think your food will work, do not use the feeder if you expect to return it for a full refund of the feeder price. Although we do not take back a "used" feeder not knowing what it has been exposed to, we will of course repair/replace it as needed under our warranty guidelines. You may review our warranty policy for details.
One advantage the Super Feeder® has over an "on demand" feeder (commonly used) is that it can also be used outdoors under a covered patio and your pet will not be allowed to over-eat or loose its food to other animals during the night, which are commonly reported problems... The Models above will only allow a pre-adjusted amount of food (that you set) to be delivered once or several times a day at programmed intervals using a remote timer to trigger and power the feeder's electronic/mechanical feed system. All models can also be adapted to feed other small animals as well. Our Super Feeder's most unique feature over other feeders is that it can serve anything from a very small to large portions (a few pellets to cups) many times per day, depending on the remote programmable timer's quantity of on-off cycles that you choose. A special bowl comes with combos including or Super Feeder dedicated cat stand.
Very important facts you should know about automatic feeders.
The most common problem in most feeders on the market is food "bridging" or "rat-hole" problem. With "bridging," stationary kibbles pack themselves on top of each other and do not drop through, especially in a square container type feeder. Someone has to occasionally shake or kick the feeder to make food drop down to be caught by a common "auger" system (most common in most feeders) in order to "make" the machine dispense food. A "rat-hole" occurs with the same basic problem where food stacks around the outside wall of the inside of the feeder's reservoir causing a hole in the center, thereby causing the same problem as bridging.
Our Super Feeder does not use an auger system to capture and expel the food out of the feeder. It uses a roller and baffle system that causes constant motion within the machine to prevent the above stated problems common in other feeders. That system will also not bind up on kibbles possibly damaging the gear drive and causing food not to come out. The click-clack sound if produced by a slide shaker mechanism to accomplish several things: Along with the roller and flexing internal baffles, it adds a much needed extra motion within the feeder to particularly prevent "bridging" and larger food from clogging the outlet. The best way to make sure your food will not clog up is to use the trial-and-error method.
Left: ACDT-36 Dual outlet 7-day digital timer with dual outlets to trigger two feeders at the same time if needed. Center: The ACDT-20 Super feeder Digital timer with seconds (very rare) for easy synchronizing of two timers if needed to trigger two feeders at the same time in separate rooms or to by-pass the feeder's own feed timer. Right: ACAT-31 Super Feed's easiest to program analog timer with 15 min. tabs to provide up to 48 daily feed cycles 30 minutes apart)
So, you say you have a mischievous cat that likes stealing food from the other? Not a problem, just use two feeders and the 2-outlet 7-day digital timer above, and let's see what he'll do when they both trigger simultaneously! Many customers also use this timer to operate a cat's Drinkwell™ water fountain at the same time the feeder is triggered to encourage their cat to drink at meal time. This timer comes with the combo deal #24 dual feeder set-up, or you may order it from our online store.
Each CSF-3, CSF-3XL Super Feeder® comes with a low voltage adapter (for your pet's safety) with a six foot cord ( the power adapter can also be fitted with a two conductor wire to reach your feeder) and complete installation and operating instructions. Each "basic" feeder package holds over a quart and comes with two 2-cup hopper extensions and a power adapter. You can purchase a larger set-up with a 1.5 gallon hopper as pictured above. Two hoppers could even be stacked together for up to 3.3 gallons (39 inches tall). The feeder can also be mounted to a wall, garage 2x4 stud, porch, etc... The only additional item you will need to operate (trigger) the feeder's own adjustable internal feed timer is any basic 120V analog or digital lamp/appliance programmable [timer] that you may already have in your possession. If you do not already have one, you can purchase one from us. You may choose from a variety of combo deals which will include a timer of your choice. The cat feeder can be installed outdoors when choosing the correct package and properly protected from wild animals, especially raccoons, as depicted above by various customer pictures. We recommend some type of overhead shelter (porch) to keep the rain out of the bowl. Do not use our indoor stand and bowl outdoors.
THE SUPPLIED POWER ADAPTER IS THE INDOOR TYPE AND MUST BE KEPT SHELTERED, UNLESS YOU PURCHASE OUR OUTDOOR APPROVED POWER ADAPTER OR OUTDOOR TIMER/TRANSFORMER. FOR OUTDOOR USE, YOU SHOULD NOT USE THE PLUG AND JACK IN CASE AN ANIMAL WERE TO PULL IT OUT, YOU SHOULD USE THE SCREW INPUT TERMINALS UNDERNEATH THE FEEDER.
Interested in controlling and monitoring feeder remotely with Web-Enabled PC, Phone or PDA? Check out SmartHome™ system at:
http://www.smarthome.com/2412N/SmartLinc-INSTEON-Central-Controller/p.aspx

Home Automation Superstore
[NEWS] [About Us] [Contact us]
[FUNCTIONS][Q&A's] [How to choose] [koi Pond Super Feeder®] [CAT FEEDER]
[Bird Super Feeder®] [Quick Installation Page] [See Typical Pond Feeder installation] Feeder sizes, info]
[How to order] [Prices] [Timers] [COMBO DEALS] [ON-LINE STORE] [Policies/warranty]
[Want to be a dealer?] [Dealer near you] [Trouble-shooting] [Super Feeder parts list]
CONTACT US FOR INFO AT: info@super-feed.com
INTERNATIONAL ORDER? DO NOT ORDER ONLINE UNLESS YOU REVIEW OUR POLICY AT:
http://www.super-feed.com/international_order_policy.htm

SAFETY REMINDER
All Super Feeders have been thoroughly tested and found to be extremely dependable in providing your pet(s) with timely meals; however, as with any machine, your feeder should be monitored at regular intervals for proper operation. If you anticipate being away for an extended period of time where a lack of food could cause harm or even death to your pet(s), you should make arrangements with someone to inspect your feeder at regular intervals.
SUPER FEED & SUPER FEEDER are registered trademarks owned and licensed by Super-Feed Enterprise.
Copyright © Super-Feed Enterprise. All rights reserved.
Revised: October 21, 2013.
Automatic Cat Feeder | Automatic Feeders | Cat Feeders |
Automated Pet Feeders | Automated Pet Feeder Timers | Auto Cat Feeders | Auto Food Feeders | Auto Cat Food Feeders