(Patent 5,873,326) "Outdoor/Indoor" Feeder
The KSF-2 is composed of very thick high-impact acrylic and polycarbonate plastic, tough polypropylene interior parts and stainless steel hardware . And all parts are available and easily replaced, should you ever need them. Heavy-duty high-impact plastic helps prevent condensation and is practically animal-proof. This feeder is extremely weather resistant and can be used for any type of outdoor or indoor feeding. The only thing you will need to operate, power and trigger your feeder is some wire and any inexpensive remote plug-in timer. It can also be operated without its power adapter by hooking it up directly to a timer/transformer for a 12 Volt landscape lighting system or a sprinkler system timer which normally supplies 24vac. Operate it like a "zone" valve. A home automation X-10™ type system is perfect match and A 12 Volt battery can also be used with our optional external 12vdc digital timer. If you do not already have one of these timers or timer/transformers, we stock a vast selection of digital or analog models.
The external 120vac remote timer (not included with a "basic" package, but available with combo deals) and the feeder's supplied low-voltage power adapter are normally used to "trigger" and power the feeder's own internal and adjustable feed timer (no batteries required). YOU pre-adjust the feeder's own internal feed timer for the length of time you want the feeder to run at each cycle. The feeder is capable of feeding as many times as the external remote timer is able to provide "on-off" cycles (1 to 72 times a day, or more, depending on the timer used). A 12 Volt battery system/timer is also available for those of you who must have it, but we really do not recommend battery systems. Our Super Feeders can accurately feed from just a few pellets to many cups per day.
Several feeders can be "triggered" by one timer .
All models will readily fit to a vertical 2x4 (preferred method), a pipe, hung, or on top of a platform. A real neat mobile method is with a 4x4, 2x4, or a PVC pipe held in place with sand or concrete at the inside edge of a 5 gal. plastic bucket, to which you can attach your Super Feeder. You can move the bucket around in your pond wherever you want it to be. You can even dress up your installation with flowers. Real handy! It can be hung using the supplied bracket. Click on the typical mount link below for a picture of that example.
Each feeder has its own reset switch and electronic adjustment to initially calibrate the feeding cycles. A status green (LED) light lets you know when the feeder is powered. The time it runs determines the amount of food that comes out for a given time, and a mechanical adjustment calibrates the volume of food dispensed for that given time. It dispenses all the food required from a split second to approximately 70 seconds, as adjusted by you, totally independent of the length of time the remote timer stays on.
See pictures of other applications for the KSF-2 outdoor feeder, such as bird feeding.
Remember...Unless you purchase a combo deal, you will need some type of remote timer and 2 conductor wire to operate your Super Feeder®. Most people already have a timer of some sort and 2 conductor wire. In order to keep your cost down, we offer these items only as optional accessories by themselves or with a combo deal. See [price list] If you cannot keep the remote timer and power adapter sheltered, you must find a way to do so, or you should use an outdoors remote timer system like the |ACDT-35|.
|Feeder and accessory size info|
|SEE AN ACTUAL TYPICAL FEEDER MOUNT NEXT TO POND|
|HANG-MOUNT TYPE DESCRIPTION AND PICTURES|
|PIPE MOUNT YOU COULD PURCHASE FROM LOWE'S
Choose the feeder for you by clicking on red links at the bottom of this page, or visit our online store for a whole selection of Super Feeders and specials by clicking the links below:
|ONLINE STORE AND SHOPPING CART|
CONTACT US AT:
IF YOU'VE NEVER SEEN ONE OF THESE WORK, WAIT TILL YOU FIND OUT HOW DIFFERENT IT IS FROM ANYTHING ELSE AND THE MANY WAYS YOU CAN OPERATED IT. YOU ARE REALLY IN FOR A PLEASANT SURPRISE!
The Super Feed® Family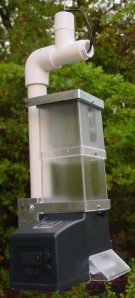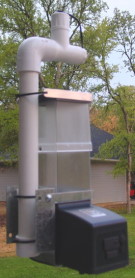 KSF-2 hung with PVC pipe
THE KSF-2 QUART SIZE OUTDOOR KOI-POND SUPER FEEDER®!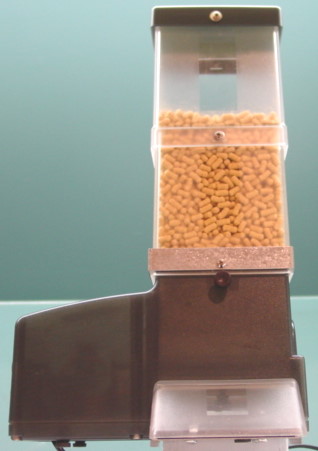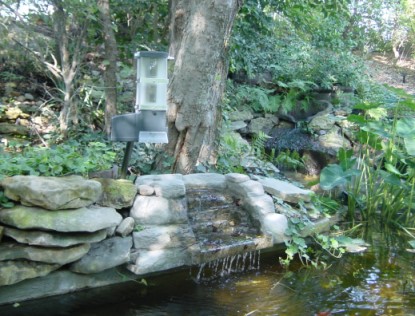 click on picture above for details of mount shared by Dave, Weatherford, TX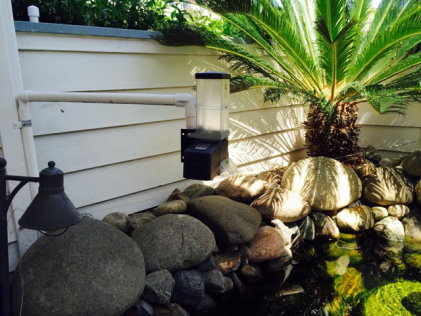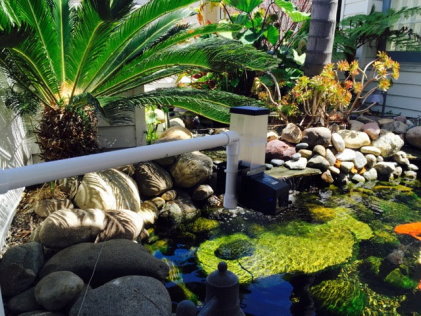 Clever pipe installation above shared by Mariano T., Dana Point, CA Click on picture for parts list shared by Mariano.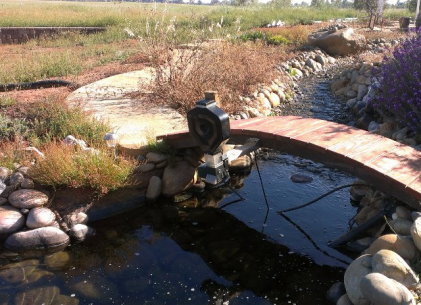 Over-bridge installation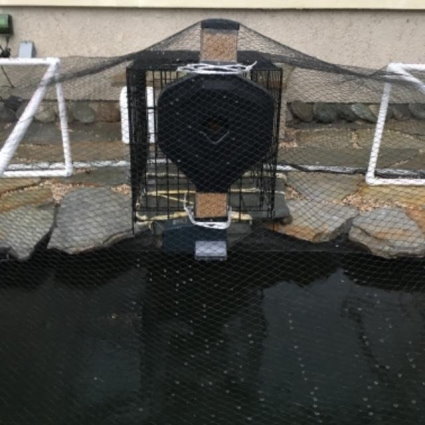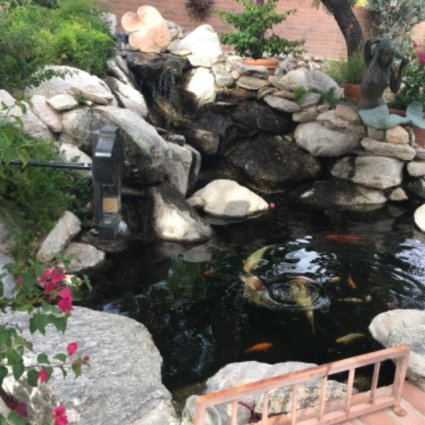 PIPE MOUNT YOU COULD PURCHASE FROM LOWE'S
1.5 GALLON HOPPER BELOW SLIPS ON TOP OF FEEDER OR CLEAR EXTENSIONS.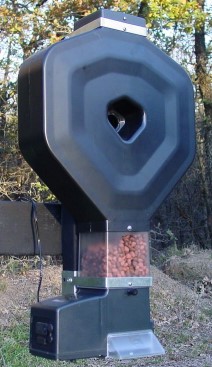 MODEL KSF-2XL
The model above includes the KSF-2 Super Feeder, mounting bracket, 1.5 Gallon hopper, 2 clear 2-cup hopper extensions (which you may use one or both to let you see when the food gets low), low-voltage power pack, straps and hardware. This model can hold up to 1.8 gallon (28 cups) of pellets. For additional info or to purchase this or similar model, click on the picture.
TYPICAL INSTALLATION OF "BASIC" QUART SIZE KSF-2 ABOVE TO SWING-ARM WOOD MOUNT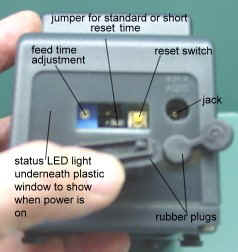 Sealed components of KSF-2. The additional stainless screw terminal strip underneath the feeder (left) is for connecting a two-conductor wire outdoors and/or triggering several other feeders, relay, etc... The jack plug should not be used outdoors to maintain best waterproofing. Make absolutely sure the rubber plug is sealed at all times!! Water on the electronics board could cause feeder to keep running while being powered. Click on the picture for additional tech info.