IMPORTANT NOTICE: We are in the process of creating a new online store. If you are not directed to any store (old or new) when clicking on a store link within this site or super-feeder.com websites, go to: http://www.superfeederstore.com
(PCB-1) SOLID STATE SUPER-FEED TIMER BOARD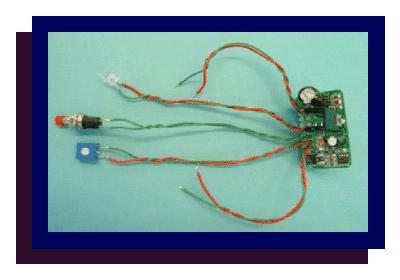 This board could be used as a primary or secondary timer which breaks time down to a split second and up to approximately 70 seconds of "on" time at the output leads.
Leads from top to bottom: Input, power "on" yellow LED light, reset switch, time calibration potentiometer, DC output leads.
Typical applications:
Power a small dc motor, small dc pump, LED's, etc... not exceeding 2 Amps

Power a relay in order to handle a higher amperage load
How to use:
1. When power is initially applied to the input leads, the output leads will supply power for the time calibrated by the potentiometer for up to approximately 70 seconds, even when the board remains powered. The board must then be powered-down for 30-45 minutes to reset its internal timer in order to be "triggered" again when power is again applied to the input leads (the reset waiting period can be reduced to 1 minute or less by bridging the reset switch leads with a 22K to 20 meg. resistor). While power is on, additional cycles can also be initiated via its reset push-button switch or any other type of switch.
2. The PC board can be left powered at all times (minimal draw) and the reset switch or other type of switch (normally open) can be used to trigger the board's internal timer. As an example, if the reset switch were to remain closed for 20 seconds and the board had been calibrated for 30 seconds of "on" time, and you then released the switch, the board would continue to run for the remaining 10 seconds and quit. If the reset switch is only momentarily closed, the timer will run for its calibrated total time.
Three Super-Feed boards are available:
PCB1--6-24 volts DC (if using AC, the voltage will be cut in half at the output). Voltage at the output will be slightly less than the input (apprx. 11.5 volt with typical 12 v battery. (2 A. max.)

PCB2--9-24 Volts DC or AC input with regulated 7.5 Volt DC output (2 A. max.)
ANY POWER ADAPTER CAN ALSO BE USED IN PLACE OF BATTERY TO POWER ABOVE PCB'S
Board size: 1 inch x 1 7/8 inch
Keep in mind that any of these timers are to be purchased as is. Although we guarantee them and they will do as described above, we cannot guarantee that they will work with your project because we have no control on how they are used--over-voltage, type application, etc...They cannot be returned.
EXAMPLE OF A CUSTOMER'S HOOK-UP TO JUST SEND A PULSE ON A BOAT WATER-MAKER INSTEAD OF HAVING TO USE A MANUAL SWITCH
The dc timer and its internal relay are powered by a 12 vdc source. The timer then "triggers" and powers the pcb1, which in turn controls its dc voltage output time down to a split second and up to about 70 seconds, if needed (controlled by its little blue potentiometer).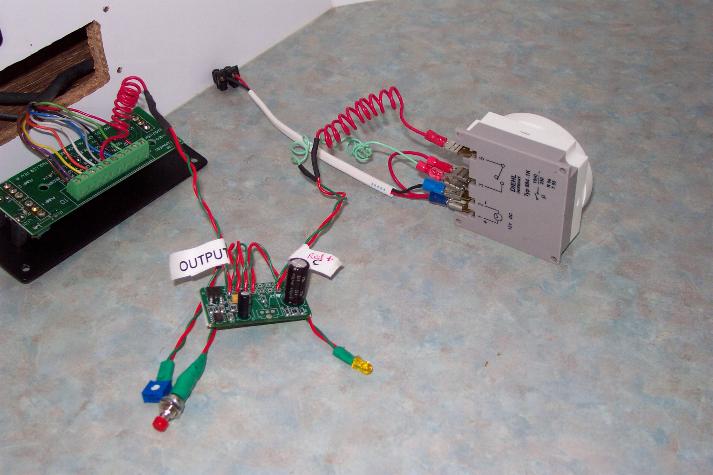 |BUY NOW|
See [Basic 24HR timer] See [120 Volt to 12 Volt AC outdoor approved timer/transformer]
See [120 Volt indoor digital timer]
See [6 TO 24 V DC and AC timers] Back to [Price List]