IMPORTANT NOTICE: We are in the process of creating a new online store. If you are not directed to any store (old or new) when clicking on a store link within this site or super-feeder.com websites, go to: http://www.superfeederstore.com
Left, (DT-01) 7-Day 12 Volt DC Digital Programmable Timer as seen in picture above or available with indoor enclosure or outdoor metal box (below)---Same model also available for 24VDC or AC power source. Center, (TS-10) 24VAC/12VDC programmable Time switch. Right, (DT-04) 2 channel 12VDC 7-day digital timer. Many other timers available--see online store. For detailed info, click on any picture above to take you there.
A timer like the one at left is required if you do not have access to a 120 Volt outlet. You can use this timer with a 12 Volt battery. This timer must be kept indoors or well sheltered unless you purchase one with an outdoor box. It comes with 4 crimp type terminals to fit the timer's power posts. You will need proper length of wire to reach your feeder. For an additional fee, we can wire the timer ready for hook-up and even program it for you. Just let us know your requirements and how much wire you need and we'll give you a quote. This timer can provide up to 8 "on-off" daily cycles for any single, group, or all of 7 week days. The remote 12 volt battery that you will use to power this timer and internal relay will also power and trigger your Super Feeder® which uses minimal power. You will wire this timer directly to your Super Feeder® , which means that you will not need its supplied power adapter. This timer has an internal 5 year lithium battery back-up system which means that it will keep exact time and programs even when disconnected from the main battery. It's current draw is next to none. This 12VDC timer has an internal SPST relay and the 24VDC timer has a SPDT relay with contacts rated at 16 Amps to power whatever you like such as your Super Feeder® , lights, motor, relay, etc...As long as the electrical current draw of what you are wanting to power is not more than 16 amps, you will be fine. With higher current draw, you will need a "secondary" relay with higher contact rating. You can power these timers with voltage listed +/-20%. Timer at left is about 3" square x 1" thick with 4 built-in mounting ears.
|SPECIFICATIONS| FOR 12VDC TIMER ABOVE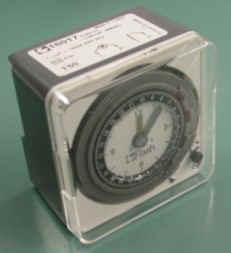 (TS-08) 24-hr 6-24VDC or AC timer Switch with SPDT relay
(The same basic timer is also available in 48VDC/110-250VAC/50-60Hz)
Really neat DC OR AC timer! You can do lots of things with this guy. It is 2 3/4" square by 1 5/8" deep. Driven by a quartz controlled stepper motor, it has a 1 second in 24 hr accuracy! This model will loose time only when disconnected from its power source, but it's easy to reset. Program disc with 144 switch actuators in 10 minute increments. Extremely simple and fast setting. Indication of switch-on period by red disc section and connection by trip-tab terminals. Time of day is very visible via the hands on the dial. The whole dial is covered with removable clear lens. Set time of day and weekday by rotating a center glass panel. Easy programming by moving the switch actuators. Best of all, is that it will work with a voltage range of 6 to 24VDC or AC! Its current draw is next to none at 1.9 milliamp. Single-pole-double-throw (one normally closed while other is open) switch rating is 16 Amps/250V If the 10 minutes of "on" time is too long...Not a problem, just check out our PCB1 (PCB3 FOR AC INPUT) to cut down the 10 min. "on" time from 70 seconds to as little as a split second. THIS LOW VOLTAGE AC/DC TIMER CAN GIVE YOU UP TO 3 ON-OFF cycles per hour and 72 PER 24 HOURS! EASY MOUNTING: JUST OPEN THE BOX, CONNECT WIRES TO SCREW TERMINALS, RUN THEM THOUGH PUNCH-OUT PLUGS (BACK OR BOTTOM), AND MOUNT BOX WITH 2 SCREWS THROUGH BACK SIDE OF BOX OR USE DOUBLE-STICK TAPE. TIMER SHOULD BE SHELTERED IF USED OUTDOORS.
Because the above timers only have 1 minute or more time increments, you may want to consider one of the electronic timer boards we use in our feeders to further break down 1 minute of "ON" time into second increments or even split second increments. Our PCB's are solid state timers that you can use in conjunction with the above timers (6 to 24VDC only) or a 120 V timer using a power adapter (6-24 Volt AC or DC). You then very simply adjust the "ON" time with the turn of a small dial from a split second to approximately 70 seconds. If you need to power something with high current draw, you can connect it to a relay with appropriate contact rating. For more details about our timer boards, click on the "Solid State..." link below.
See [Solid State 0-70 seconds Super-Feed "secondary timers"]
WHICH TIMER SHOULD YOU CHOOSE FOR YOUR SUPER FEEDER®? CLICK ON |THIS LINK|
LOTS OF OTHER TIMERS ARE AVAILABLE, click on "Price List" or "ONLINE STORE" link below
TIMERS Back to [Price List]
INTERNATIONAL ORDER? DO NOT ORDER ONLINE UNLESS YOU REVIEW OUR POLICY AT:
http://www.super-feed.com/international_order_policy.htm